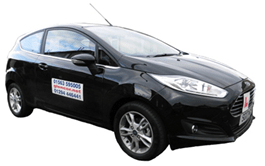 Dave, Grade A - Teaching Skills
Driving Lessons in Kilmarnock and Irvine
Mainly Irvine Test Centre
For driving lessons you can expect: -
Full hour lessons
No smoking
No phone interruptions
One to one tuition
No shouting
To learn from a

Grade A Instructor

Advanced driving techniques

at no extra charge
For driving school lessons choose either: -
The standard 1 lesson per week (1 hour)
2 or more lessons per week (space permitting)
1.5, or 2 hour lessons
Further driving courses, choose either: -
A refresher lesson/course
Overtaking techniques

(a Glencor speciallity)

Glasgow City driving
Motorway driving
Give a

Driving School Lesson Gift Voucher

with a personalised message.
Testimonials to Dave the driving instructor
Rachel Dickie
of
Kilmarnock
Dave is an absolutely exceptional driving instructor. I was really nervous about learning to drive but Dave is so patient and supportive; he never made me feel bad about making mistakes and he never let me get despondent. He is also incredibly knowledgeable and professional, he will always take the time to talk you through your mistakes or sketch out a diagram to show you how to handle the situation better next time. He also gave me plenty of time to practice the manoeuvers to make sure I was confident before my test. I would ABSOLUTELY recommend choosing Dave as your driving instructor; he is a truly lovely person and a fantastic instructor.
More testimonials
Mark Novak
of
Drybridge
From the first lesson with Dave I felt thoroughly at ease. Dave was very relaxed and pleasant, which helped greatly in reducing any stress. I passed my test with very few lessons, and this was down to the great instructor, and relaxed and enjoyable experience. Thanks to Dave at Glencor.
More testimonials
Caitlin Maclean
of
Irvine
I would like to wholeheartedly thank Dave for securing me a ZERO FAULTS pass. My examiner complimented my relaxed driving style which was completely down to being taught in that style. I highly recommend Dave of Glencor for lessons as he gave me the confidence to achieve an excellent pass first time round. Thank you so much Dave.
More testimonials
Copyright © 2004-
Glencor Driving School
Website designed by Dave of Glencor
____________________________________________
Driving Related Information

Licensing Information i.e.,
Apply Online For A Licence,
Order A D1 Licence Application Pack
, etc.

Learning to Drive,
Test Information and Booking,
Driving Safe For Life
, etc.
Remember, for large vehicles you might need to give more space at junctions or hold back to allow them to turn first (even if you have the priority to go first).
____________________________________________
Driving Schools Irvine - Driving Schools Kilmarnock - Driving Schools Ayrshire
Driving lessons a gift?
Say thank you with flowers.
The Flower Barn
Kirkland Farm, Kilmarnock
01294 217 774.
____________________________________________
Glencor Driving School Testimonials
Top
Testimonials About Glencor Driving School Lessons
You can click on a name to go direct to their testimonial.
or
Simply read the testimonials as you browse through the website.
Irvine

Crosshouse

Drybridge

Dundonald

Fenwick

Galston

Hurlford

Kilbirnie

Kilmaurs

Moscow

Prestwick

Saltcoats

Springside

Symington

Don't drive too close behind a truck:
If you can't see the driver in his/her mirrors, then they can't see you.
Top
____________________________________________
Glencor Driving School - Driving School Ayrshire - Driving Lessons With Dave The Glencor Driving Instructor in Irvine And Kilmarnock
If It's A

PASS

You're For
Then Call On Glencor
Lesson Request / Testimonial
Top